BRICKS of WOOD

(Patent Pending)
WOOD deco BRICKS TM
Bricks of Wood is a unique system of wall and ceiling decoration, that consists of wood brick veneers (WOOD deco BRICKS) in a variety of sizes, shapes and colors, and mortar line material (in different colors), that allows an endless number of decorative combinations of patterns and colors, combining the look of brick, with the warmth of wood.
The wood brick veneers are ¾" thick and made from hardwood core plywood with a stained and sealed maple veneer (exotic veneers are available by special order). The edges of each deco BRICK are bevel cut, and when installed with the mortar line material, this chamfered edge provides the appearance of depth, consistent with the application of real brick.
Individual deco BRICKS as well as the mortar line material are applied to any wall or ceiling with a couple of dabs of ordinary latex caulk (via a caulk gun) which is simple, quick, cost effective, durable and easy to clean-up. The only tools necessary are:
Inexpensive plastic miter box
Inexpensive plastic level
Tape measure
Caulk gun
Back Saw
Pencil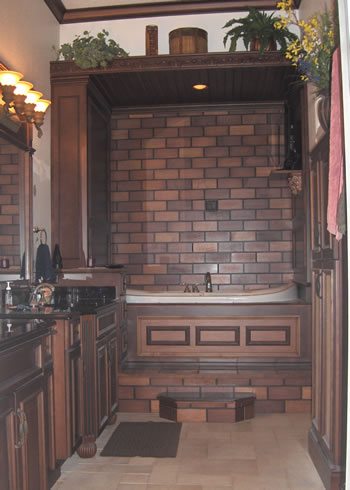 The wood grain of each deco BRICK is unique, and each piece is hand stained and wiped. Because of the nature of wood, each piece will absorb the stain differently. Even in the same color batch, there will be a pleasing variety of hues (or shades) of the same base color. These two facts give any deco BRICK wall or ceiling amazing individual character that will have everyone who sees it commenting on how beautiful it is. Of course you can always mix colors of deco BRICKS, or purchase the "Medley" color option to make things more interesting.
This system is perfect for the "do it yourself" home improvement novice. Within minutes of beginning your deco BRICKS project, you will become an expert; it's just that simple. For those who prefer a helping hand, deco BRICKS can easily be installed by your favorite carpenter or handyman. Detailed and yet simple instructions are included in each box of deco BRICKS.
Of all the things a person can do to enhance the appearance of their home, adding a wood accent wall or ceiling, or wainscot paneling in deco BRICKS, will no doubt give you the biggest "Bang for the Buck!"
So...Let's get started!
For specifics and to order, please download this AdobeTM.pdf file about WOOD deco BRICKS